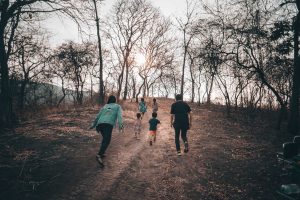 You may have spent a lot of time choosing the perfect gift for your family members last holiday and maybe a lot of money, only to find the gift quickly put to the side for the next new item. One gift you can give your family that keeps on giving is the gift of fitness. How do you do that? You encourage them by being a role model and ensuring that there are healthy meals and snacks available. While many parents forego their own healthy habits and focus on the children, when you exercise you can encourage your children to live a healthier lifestyle by being a good role model.
If you're using my DVDs and the family won't join, try an alternative technique to get them involved.
There are lots of reasons kids won't participate with you. For older kids, it's mostly because you're exercising and let's face it, at a certain age, parents aren't "cool." Try focusing on active leisurely activities you do with the family. Go biking or roller blading. If you want a less expensive option, get a hula hoop for everyone and have a family contest. You can even include neighbors for a championship round. If hula hoops are out of the question, how about another type of hoop, like the one on a basketball court. Make time to be active with the kids. It creates memories, helps them be more active and can start them on the road to a healthier lifestyle.
Are you the king or queen of take-out.
It's getting so easy to get take-out that it's almost part of the weekly activities. You can interrupt that habit by doing meal planning. One night a week go through ads to find sales and coupons if you want to save money. Plan a week's worth of meals and snacks and make a grocery list. On another night, after supper, go grocery shopping. On the weekend when you have time, create the meals for the whole week. You can use leftovers from one meal for another meal if you've planned right. Pack in the refrigerator or freezer and then heat and serve as necessary. It's cheaper and far quicker than take out and you'll be eating healthier.
Make chore time active time.
If you don't have the kids help with the chores, maybe it's time to start. You can even track the help and provide special prizes for completion. Have a race to see who can finish fastest or have everyone dance their way through the housework. If you have older parents that you help, let the kids help them too. Find simple exercises that are at their fitness level or have a trained professional do it for you, even if it's raising arms while sitting in a chair. Let your kids encourage Grandma or Grandpa to exercise. It helps your parents stay more active and independent, while provides a sense of service and increases the appreciation for exercise in the child.
Plan an active vacation and have the kids prepare for it. There's a lot of walking involved if you go to Disneyland or other theme park. If you're going camping, you need to be in shape to hike. Workout with the kids three times a week, even if it's just going for a walk.
If you have a dog, taking Rover for a walk is a great exercise for the entire family. You can work on doggy's social skills, too. If you have any other type of pet, get the kids to exercise them at least once a day. Kitties love to chase a feather on a string and appreciate the extra attention.
Get the kids involved in preparing the meals when you meal plan and prepare. Even young ones can divide nuts up into single serving sizes and put them in small plastic bags. When they help, food always tastes better.
If your family has been sedentary, you'll be amazed at how exercise helps boost energy levels and even can improve grades. Fitness builds strong bodies and minds, plus it also builds character.
For more information, contact us today at Get RIPPED! Jari Love