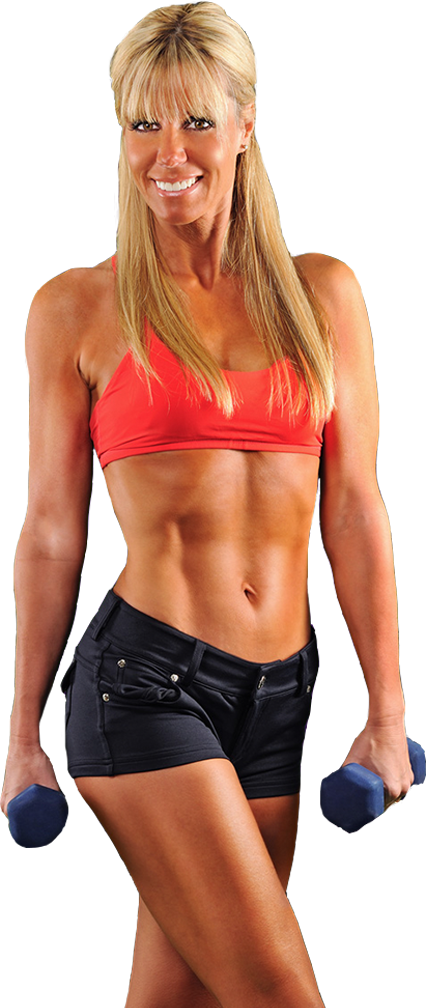 JARI LOVE
WORLD RENOWNED FITNESS EXPERT
Jari Love is a certified personal trainer and the creator of Get RIPPED!®, the five-phase, no-nonsense full body workout system designed to help people of any fitness level shed unwanted pounds in just weeks. The hot-selling and critically acclaimed Get RIPPED!® Series enables individuals to burn up to three times more calories than the traditional weight-training program and has received rave reviews from fitness critics throughout North America since the first title debuted in late 2005.
The Transition
After many years as a recording artist, model, and actor, Jari obtained her Personal Fitness Trainer (PFT) certification and began working with clients as a personal trainer. However, with increasing responsibilities over time she had fewer hours to devote to training, so she used her knowledge of physiology to create a results-oriented workout for the busy parent and business person whose goal is to maintain peak fitness. After many of her personal clients were able to meet lifelong fitness goals as a result of doing the program, Jari decided that it was possible to develop group fitness classes based on the same concepts.
Contributions & Achievements
Jari's background as a certified trainer, fitness club owner, author, and creator of the successful scientifically tested Get RIPPED!® Series garnered her international attention as a top trainer and fitness personality.
Jari is a frequent fitness contributor to newspapers and magazines worldwide and has appeared on numerous TV shows to discuss health, nutrition and weight loss. While Jari makes her home in Calgary, Canada, she tours to teach, train and certify other fitness professionals in the Get RIPPED!® Series. Having recently completed her US and Canadian certification tour, Jari has appeared on ABC, NBC, CBS, Fox and The CW with appearances in New York, Boston, Chicago, Washington D.C., Detroit, Miami, Orlando, Tampa, Minneapolis, Atlanta, Pittsburgh, Phoenix, San Diego and San Francisco. She also appeared on "The Gayle King Show" on the Oprah & Friends satellite radio network, as well as other numerous talk shows. In Canada, she has made live guest appearances on a variety of television outlets, including CTV, Chum, CBC, and Global channels in Vancouver, Toronto, Winnipeg, Hamilton, Ottawa, and Edmonton, as well as serving as the fitness expert discussing celebrity diets on the television series StylOgraphy, a show that follows the evolving looks of Hollywood's biggest stars, on Corus Entertainment's CosmopolitanTV.
In her hometown of Calgary, Jari serves as a regular fitness expert for Chum television and Shaw Television and has appeared in promotions for related fitness products.
Jari was awarded Global TV's "Calgary Woman of Vision" in 2009. This honorable award is presented to outstanding female entrepreneurs who contribute to the community and are driven in their careers.
Jari enjoys spending time with her family – husband Ray and two children while staying connected with her love of fitness. Maintaining her health has also allowed her to play an active role in her community where she gives the gift of her time to local programs that aid marginalized persons. Helping others be the best that they can be is Jari's ultimate goal. The value statement that summarizes Jari Love's approach to life is: Take good care of yourself to ensure that you can give your best in everything that you do and to everyone around you.
Get RIPPED!® Success
Since the release of the first DVD "Get RIPPED!®" in 2005, Jari Love has developed a fanatical fan following from consumers and news media alike. The popularity of these DVDs have generated an unprecedented demand in Canadian health clubs for her personal classes and consistent Top 10 sales rankings month upon month on leading international fitness video websites.
In the fitness category, her DVDs have ranked as high as No. 1 on CollageVideo.com and No. 2 on Amazon.com. With fitness critics, Jari and her products have received exemplary reviews, and the accolades continue to stockpile. Jari and her series have been featured in a number of major health and fitness magazines as well as regional and national newspapers throughout North America.
Get RIPPED!® Achievements
Get RIPPED!®: Rated by Fitness magazine as one of the best fitness DVDs of 2005 and also named it best for "Total-Body Tone-Up."
Get RIPPED!® 1000: Named best for "Burning Mucho Calories," while also earning "Most Effective for Fat Loss" recognition by Oxygen magazine.
Get RIPPED!® Slim & Lean: Rated top fitness DVD by Shape Magazine, while Fitness magazine rated it as one of the best fitness DVDs of 2006 and singled the DVD out as best for "Total Body Sculpting."
Get RIPPED!® & Chiseled: Highlighted in USA Today as one of the top 10 workout videos.
Get Extremely RIPPED!® 1000: Rated a Top Pick by Oprah & Friends satellite radio network personality Gayle King in her "December 2010 Gift Guide" column in Oprah magazine. It also was rated "Best Calorie-Burning Session" in the February 2010 issue of Fitness magazine.