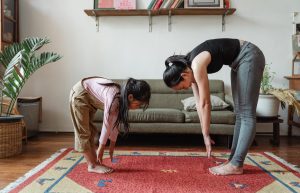 Part of being a good parent is to keep your kids healthy and develop healthy habits to take to their adult years. It means teaching them healthy eating habits and getting them to exercise regularly. That may sound simple, but if you're a parent, you know that in today's world of technology, exercising their thumbs and hand strength on video games takes a huge amount of their free time. How do you get them away from those computer games and get fit. There are several things you can do to change the behavior and make healthy living part of their future.
Make the time to play with your kids.
Kids learn what they live, so join in the active play. If you're active, the odds that they will enjoy an active lifestyle increases. Shoot hoops with them when you get home from work or dance in the living room to fast music and get them to join. Start playing games when they're young, like animal walk. Walking like an elephant or hopping like a kangaroo or bunny will definitely give you both a workout.
Be the leader of the pack or a role model.
When kids see you exercise, they automatically think it's something they should do. It's one reason my home program is so important. They actually see you exercise and can join you. You'll be a role model, and they'll have fun when they join you in the exercise video. You can do other things that will add to their appreciation of the active life, like going rollerblading with them, riding bikes and even going for hikes or walks.
Be more than just a role model, be a leader.
When you go to the gym and workout, your children know you're doing it for your health and fitness, but it doesn't really make a difference unless you show how that makes you more fun! You can be a leader by planning family activities, like hiking and bicycling. When you're giving a gift, make it one that promotes an active lifestyle, like rollerblades or hoop and basketball. Then, do those things together to create family fun, traditions and memories.
Change your habits to build theirs.
Do you drive your kids to school, but it's close enough to walk? Make some changes and walk the distance with them. You might find out that it takes less time than waiting in the drop-off line in your car. Take the stairs instead of the elevator if it's possible and park further from the store and walk. Again, it's a green idea that saves you time circling the lot for the best place to park.
Make each walk an adventure, even if it's just down the street. Create active traditions when you're having family fun and making memories, such as monthly hula hoop contests or walking tours.
Start your toddlers and young children out right by taking walks in the park and stopping to identify birds, flowers and even small wild life. Enjoy the walk as you visit a museum or wildlife area.
Make your gifts active ones. Instead of getting the latest electronic device, get roller skates, bikes and even inexpensive items like hula hoops. A trampoline can provide hours of healthy fun too.
Turn household tasks into exercise and make them fun. Make it a game or turn up the music and dance your way through house cleaning. Make outside chores fun. Do you remember when you were a kid, raking up leaves and then jumping in them?
For more information, contact us today at Get RIPPED!