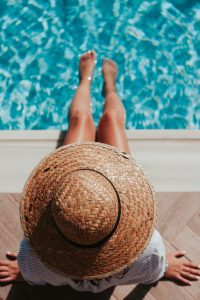 Our summers never seem to last long enough in Calgary, Canada. It's time to get out lighter weight clothing and take advantage of the sun. You'll enjoy the weather more if you're ready for summer and have the energy, vigor and body you're proud to show off in summer clothes. Even if you aren't ready for summer, it's here so take advantage of it. Enjoy taking walks, riding bikes and getting exercise outdoors. Calgary is one of the warmest places in Canada, so put on your best summer clothing and have some fun.
Take your workout to the great outdoors.
When you workout with "Get Ripped with Team Jari," you can workout anywhere you want. Just take your iPad or phone and you're ready for healthy fun in the sun. Breathe in that fresh air as you build your body and enjoy. Get the gang together in the backyard and get connected, while you get fit in your own personal boot camp. It's fun, it's social and it's healthy.
Enjoy the bounty of summer.
Whether you live in Calgary or elsewhere, summer is normally a time of bounty from the garden. It's the perfect time to start new habits. Take advantage of the fresh fruits and vegetables available and make eating healthy your goal. Find ways to include more fruits and vegetables in your diet and take advantage of the summer prices. Buy extra during the summer months and freeze those veggies and fruit for the winter. Frozen fruits and vegetables have all the nutrients as fresh.
Start walking.
You don't have to sweat or breathe hard to increase your exercise time, just walking more can help. Take a walking tour on the weekend or enjoy some of the summer attractions that keep you on your feet. The Calgary Stampede, a visit to the zoo, walking and biking tours all can increase your fun and boost your fitness. Walk or ride your bike when you can. If you can't make it a mile, walk a block and increase it until you can. The more you do, the more you can do and the more you'll enjoy every moment of living.
Get Rover in shape as you boost your fitness. If you don't own a dog, even better. Volunteer at a shelter to do dog walking. You'll get healthy while you help the pups stay social and make them more adoptable.
Dance like nobody is watching. There's nothing more freeing that turning up the music and dancing like there's no tomorrow. It's good for your body and endurance. Vary the beat to match your fitness.
Make your work your workout. Exercise doesn't have to be something you do separately. You exercise every time you clean, garden or do other tasks. Do those outside tasks with vigor and enjoy sprucing up your body as you spruce up your house and yard.
Drink more water. If drinking plenty of water isn't already a habit, the summer is the best time to make it one. Try some infused water for variety.
For more information, contact us today at Get RIPPED!