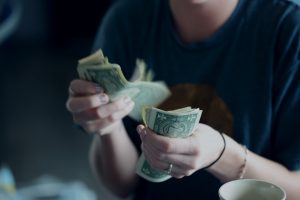 There's nobody more dedicated to helping you get fit, which is why I include a diet tracker in my online store. Eating healthy meals doesn't happen by accident. You need to identify what's healthy and have all the ingredients available if you're cooking at home. It's also way to easy to want to stop for carryout, especially after a long day. That's why meal planning is so important. When you meal plan, you ensure you have all the necessary ingredients, shop on one day and cook on the weekend. You'll have meals you can just heat and eat, which is faster than a drive-through. It not only can help you lose weight and eat healthier, it can save money, as well.
Keep your grocery budget healthy with a meatless Monday.
Animal protein is far more expensive than plant protein, so by opting for a vegetarian meal a day or two a week, you can save a lot over the course of a month. The problem is that plant protein sources aren't complete and don't contain the full complement of amino acids. You can use recipes that combine protein to achieve that goal. Beans and rice and nut butter with whole grain, are examples. Think black beans and brown rice or veggie rice and beans. Cashew butter on whole wheat toast is another example. Just add a salad or vegetables and you have a nutritious, but inexpensive meal. When you plan ahead, you'll find loads of healthy vegetarian meals that cost pennies to make.
Double up recipes to save time and money.
When you make a dish, double it, so you have even more to store in the freezer. It lets you stock up and have free time when weekend cooking isn't an option. It also means you're ready for unexpected guests! Debone chicken, or cube beef and freeze it on trays, so it doesn't stick together, then store in plastic freezer bags. You can use it down the road for other recipes and save a step. Save the liquid from boiled chicken or beef for soups and use left over veggies, including celery tops, for soups. Shredded beef is ready for spices to create a delicious taco salad or beef taco lettuce wrap.
Create your menu with two dishes in mind.
Did you broil or grill vegetables? Make extra and use them in a power bowl for lunch or dinner. If you have to purchase chicken breasts for one meal, buy the whole chicken, it's cheaper. Season and air fry rotisserie wings, legs and backs for another meal or to top a salad. Make sure you have ingredients to turn leftover beef, rice, beans or chicken into a delicious burrito or frittata. Plan to use leftover vegetables from several days to create mixed vegetables another night.
When you plan and start to cook, make sure you chop and slice all fruits and vegetables and store them properly. You can use them in recipes, for appetizers and snacks. You'll be more likely to snack on healthy food when it's easier to do.
Make extra rice and chickpeas for power bowls for lunch or dinner. Spinach, sweet potatoes and a little beef added make it filling, nutritious and delicious. Consider adding grilled veggies and beef or chicken as an alternative.
Always mark your freezer bags to identify the contents and the date you froze it. It will help you use the oldest package first and ensure nothing goes to waste.
When you plan meals, you can plan around coupons, sales and using fresh produce in season. That can save you money on top of the other savings from meal planning. Some stores download coupons on their customer loyalty cards, you can download others or use the traditional form of coupons.
For more information, contact us today at Jari Love