Get RIPPED! is the critically acclaimed and best-selling total body workout system designed to maximize fat loss, burn calories and sculpt lean muscle.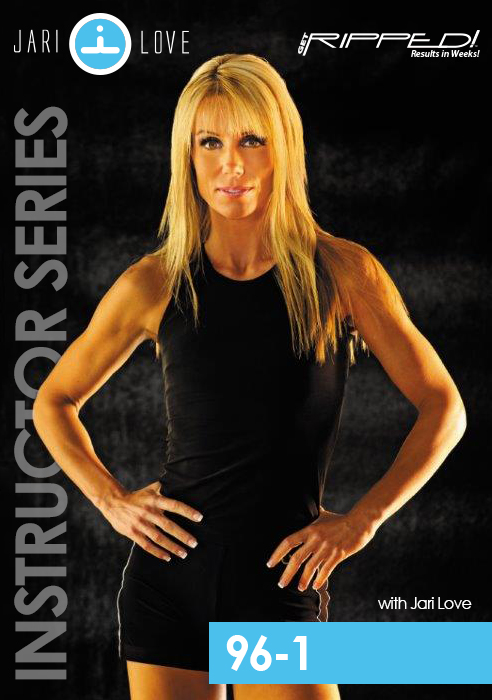 Created by certified personal trainer and fitness expert, Jari Love, in collaboration with a team of exercise physiologists and physiotherapists, this high-rep, low weight work-out program has been clinically proven to burn up to three times the calories of a traditional weight training program!
The Get RIPPED! program is a dynamic fitness program. Each level of the Get RIPPED! workout has specific goals and progresses systematically. The structure of the program is also applicable to both the entry-level and advanced students.
Jari Love's Get RIPPED! Program has been scientifically tested!
Accessible, modifiable, progressive and fun, each of the five phases of Get RIPPED! has been scientifically designed and evaluated, featuring only the safest and most effective lab-tested exercises. With a focus on compound exercises, the Get RIPPED! program incorporates free weights, weight bars, athletic steps and plyometric training.
As a video series, Get RIPPED! has sold over a million DVDs in the home video market and received rave reviews from fitness critics in the United States and Canada since the first title debuted in late 2005!
It's been a goal of Jari's to help fitness clubs and certify fitness instructors in this same system she has been teaching herself all along.
The Get RIPPED! program with packed classes and countless weight loss testimonials, will give your students the results they are looking for and will keep them coming back for more!

You can become a certified Get RIPPED! Fitness instructor Online! Certified Get RIPPED! instructors, will learn the moves and the methodology behind this results-proven and scientifically based work-out as well as the choreography, music and teaching tips—everything needed to become a successful Get RIPPED! Fitness Instructor. Upon completion of this self-paced, online training course, you'll be certified and will be ready to start teaching Get RIPPED!
You'll also earn Continuing Education Credits.
Get paid to Get RIPPED! TODAY!