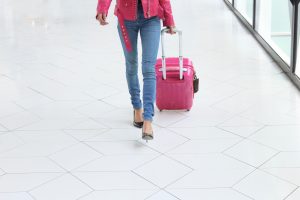 You don't have to be on the road for weeks, constant traveling for business, with just a short time between trips, can put weight loss plans in the rear view mirror. If you're traveling by car, it's tempting to stop at drive-throughs for less than nutritious and often high calorie meals. Eating in airports can even be worse. You end up paying a high price for unhealthy food, in many cases. You don't have to give up, you can eat well while traveling with a little planning.
Eating well takes a little planning, but it's worth it.
You have a lot more liberty and options when you're traveling for fun. You can map out your journey and check out the online menu of restaurants ahead of time. There are even online options to let you know where farmer's markets are, so you can get healthy snacks or even a few meals to eat at roadside stops. Make sure you stop often enough to stretch your legs and snack. Have scheduled stops so you don't end up in the position where anything will do, including fried chicken, fries and tons of gravy. It's better to stop a little early than wait until it's too late. If you have a specific destination, check out the restaurants or food options in the area for the ones with the healthiest menus.
Plan to make your own healthy snacks while you travel.
For business trips, this may not be an option, but when traveling for fun, it could be the perfect way to eat healthy. Start with a cooler of healthy snacks, like fresh veggies and dip. The snacks can be supplements or even a meal if you plan it right and include protein sources, fruits and vegetables. You can even make a few full meals at home and take it with you for the first few days. Your vehicle doesn't have to look like a food truck. Take food for a day or two and replenish along the way at farmers' markets or roadside stands. Find stops for the night that provide a small refrigerator in the room to store your stash overnight.
You don't have to avoid restaurants, just choose your food carefully.
If you've done your homework, you know the restaurants with a healthy menu, but just in case there aren't that many near you, learn to choose the healthiest foods on the menu. Avoid fried foods and stick with grilled, roasted or baked. Don't opt for any highly processed meat, like hot dogs. If you can get extra vegetables instead of fries, do it. If there's an option go for a baked potato. For drinks, stick with water, unsweetened tea or black coffee instead of a sugary drink.
If you're flying, take an empty water bottle to the airport with you. It can be an ordinary plastic bottle with a screw on lid that you washed from another drink. Fill up at the water fountain after the security check, so you stay hydrated on the trip.
There are so many limitations on airplanes for carry on items that you have to be creative. Your personal item can be a very large purse to pack your own purse and some snacks, like fresh fruit.
Nuts are an excellent source of protein and transports easily. Make a chicken or veggie wrap, slices of banana nut bread, a container of fresh fruit and cheese or a salad in a container.
Some flights offer meals you can purchase. Find out if yours does and what the meal is. It might be a bit more expensive, but some are very healthy. Always check to see if the food you plan to carry on a flight is allowed. Types of liquid food like yogurt often isn't.
For more information, contact us today at Jari Love – GET RIPPED!